Vanuatu Para Athletes Overcome Incredible Odds & Inspire Hope In Others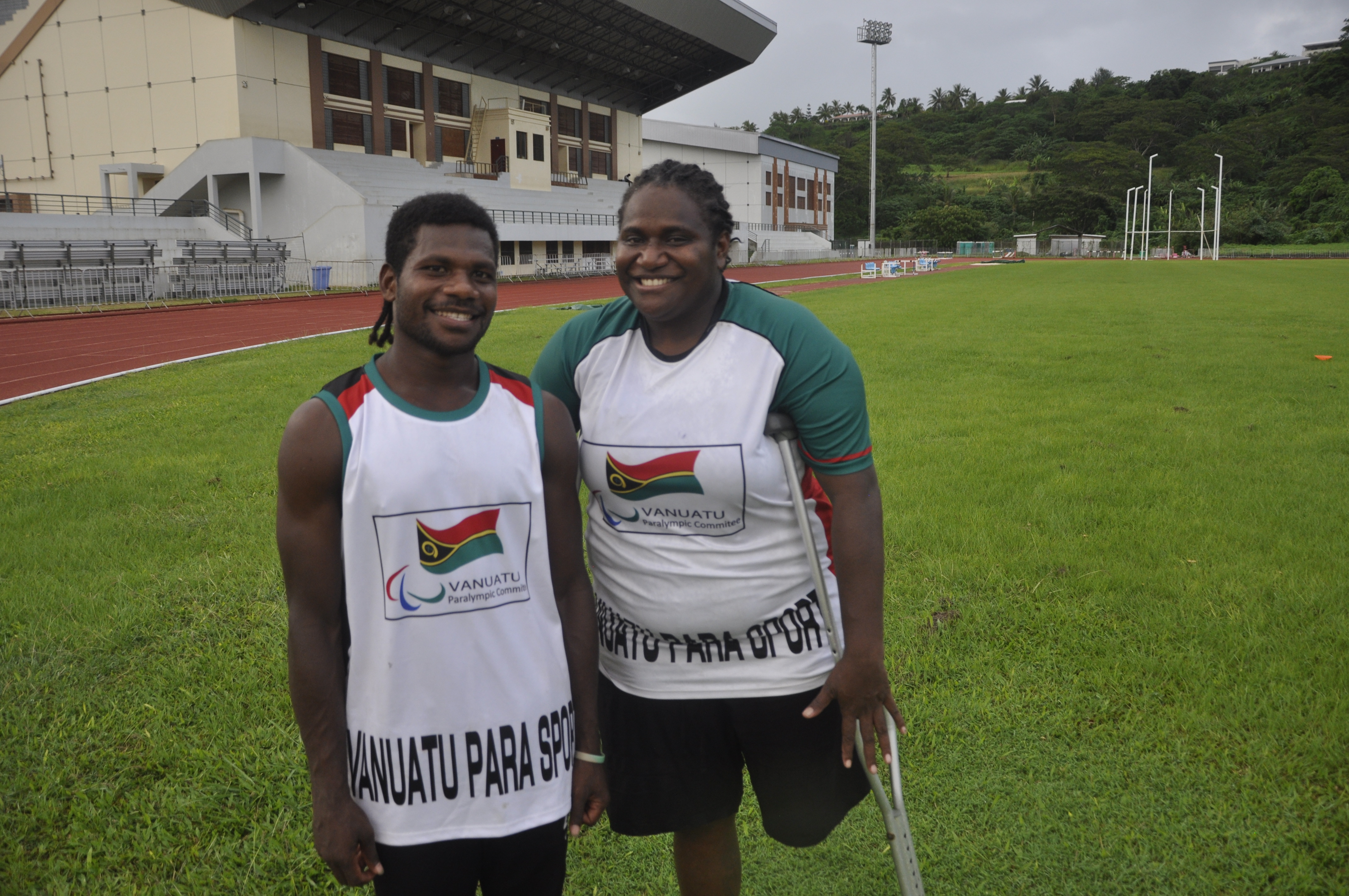 To succeed in professional sport is tough. To excel at it in a developing nation with a lack of opportunity, sub-standard facilities and equipment, little funding and no specialist coaches – is near impossible.
But two determined para athletes from Vanuatu are overcoming incredible odds to pursue their dreams. Both Ken Kahu and Elie Enock are on track for the upcoming Tokyo Paralympics.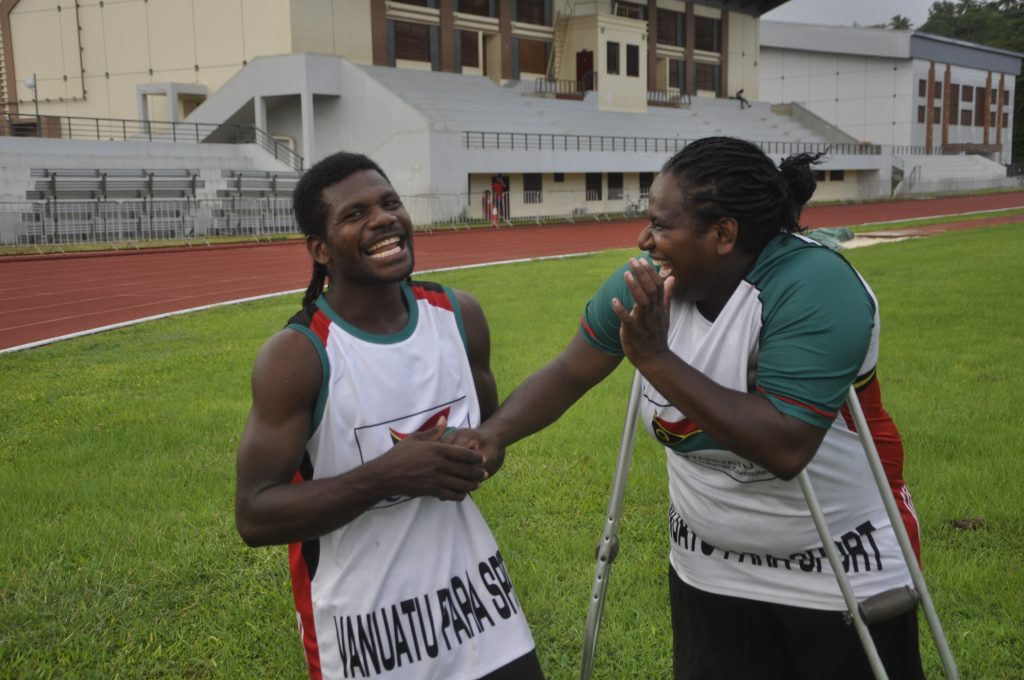 Kahu has already qualified for the javelin event, while seated shot putter Enock hopes to qualify at the Queensland Athletics Championships in Brisbane this weekend.
Neither Kahu nor Enock had played much sport before being identified by local para coaches.
Kahu was simply "noticed" because of his obvious physical disability, an 11-centimetre leg difference, and Enock because she displayed strength while rowing at a talent identification event.
Enock had lost her right leg in a car accident several years earlier.
Ahead of this weekend's competition in Australia, the pair had some inspiring advice for other people with disabilities.
"Stay positive, think positive. If you have a goal keep trying for it, even when you face challenges, barriers, do whatever you can to lift yourselves up and reach your goal," said Enock.
"I want to tell all the parents of girls and boys and especially with parents of people with disabilities to treat them all equally and to provide opportunities for them to achieve their goals," she said.
"The key message is not to focus on someone's disability look at their ability and what they can achieve."
Kahu, who is Vanuatu's first track-and-field athlete and para athlete to ever qualify for an Olympics from merit, said people with disabilities could do just as much as their able-bodied counterparts.
"I'm really happy to have the opportunity and especially happy to reach the level that able-bodied athletes in Vanuatu haven't been able to reach," said Kahu.
"I'm really excited and happy to be going to Tokyo – and it is possible for anyone," he said.
"Before going to my first competitions in Australia I was very scared and nervous, but now I have been to Tokyo, Dubai, Australia. I have had  lots of opportunities to meet other athletes all over the world and now I'm not scared and ready to fight to do my best."
Enock said she was incredibly proud of her achievements, after falling into deep depression after her accident 10 years ago.
"To be on the world stage, means not just showing people in Vanuatu but all around the world that people with disabilities can achieve in sport as well," said Enock.
"Even when we have issues, I try to remind myself that I have been training for this opportunity just as much as the rest of them and I will do whatever I can to stay positive and think positive," she said.
Kahu said competing for a developing nation was tough, when first-world nations had so many obvious advantages.
"But it hasn't affected my approach to competing," said Kahu.
"We haven't been able to take travel equipment and I've seen other countries turn up straight away and train," he said.
"I felt and I don't feel comfortable asking other countries to provide me with it – but I don't let it get me down."
"At school kids might not pass me the ball, or they would say bad things about me, if we lost in a ball game, they would blame it on my disability," said Kahu.
"At home I might make a mistake and my parents would blame my disability," he said.
Kahu's uncle was a strong supporter of Kahu since an early age, having adopted him – as is kustom in Vanuatu.
Despite his disability, Kahu would walk a full day from his local village to attend school on the island of Tanna.
He moved to Port Vila, on the island of Efate, last year at age 19, and had never heard of javelin.
"I was walking to the shop in Club Hippoque village and the coach of para athletics also lived there, he saw me and shouted out 'hey boy, come'," said Kahu.
"So I went and had a chat, and he told me God sent me to him on that day so he could try me out for para athletics as he recognised that I was young and fit, but that I had a physical disability which was appropriate for para," he said.
Para coach Deni Kalanga had made up his mind about Kahu from that first Sunday encounter, despite never having seen him throw anything.
"When I first met Ken, I asked if he was fit or played sport, Ken said like any other teenager – 'some football'," said Kalanga.
"I also asked if he had spear fished – he had done from the shore. I thought potentially he could have talent for javelin from that," he said.
"I wanted to find someone with talent I could train with a disability and that's why when I saw him, I grabbed him and said, 'I want you to come train with me, if you do I will buy you some shoes', and I did, and we started training," said Kalanga.
Kahu's athletic progression was fast, Kalanga believed he had natural talent.
"We started training in every sport, running, throwing shot put and discus, hand ball, to find out which area he was good at," said Kalanga.
"I started training throwing the medicine balls, building up fitness, doing running and using bands, then Deni gave me a javelin, even though I had never tried that before, and he identified I had potential in the 100m sprint and javelin," said Kahu.
Kalanga kept up a training regime for Kahu, until he went to Australia for the ARAFURA Games in Darwin last year.
In that very first competition he threw far enough to qualify for the Paralympics.
Now, Kahu is one of Vanuatu's most successful athletes, arguably the most successful ever.
"He was a fantastic discovery, it's been very nice to receive a young athlete who has qualified for the Paralympics," said Kalanga.
"It's the first time Vanuatu has qualified on its own merit for the Paralympics, every other time we've been invited as a wild card," he said.
Enock had been celebrating her birthday in a car trip around Efate with her boyfriend and some friends when disaster struck.
"We hit the bridge and then I flew outside my leg was broken and I was slipping down," said Enock.
Her boyfriend, who was the driver, also lost his leg in the accident.
If the resulting injuries weren't heart-breaking enough, her relationship with her then boyfriend broke down after the event, with the two separating leaving Elie feeling lost and alone.
"I had some really close friends that supported me and helped me to move on, but I would still stay at home," she said.
"I was really upset about the accident and the relationship break up and also the way people looked at me differently."
She said the challenges were incredibly hard to overcome, with criticism from within the community.
"People would say 'look at you, you only have one leg'," said Enock.
"Sometimes bus drivers won't stop and pick me up," she said.
It took Enock two years to heal mentally and emotionally, with support from the theatre group Rainbow Disability Theatre Group at Wan Smol Bag.
"They had a trial for all people with disabilities in Port Vila with Australian para coaches and they selected me to do rowing in April 2017," said Enock.
Enock graduated from rowing to shotput and competed in the Pacific Mini Games.
She has only recently received a seated chair allowing her to train as she would compete.
The sprightly mother is 30 centimetres off qualifying for the Paralympics – her goal is to throw seven metres – which she has done in training.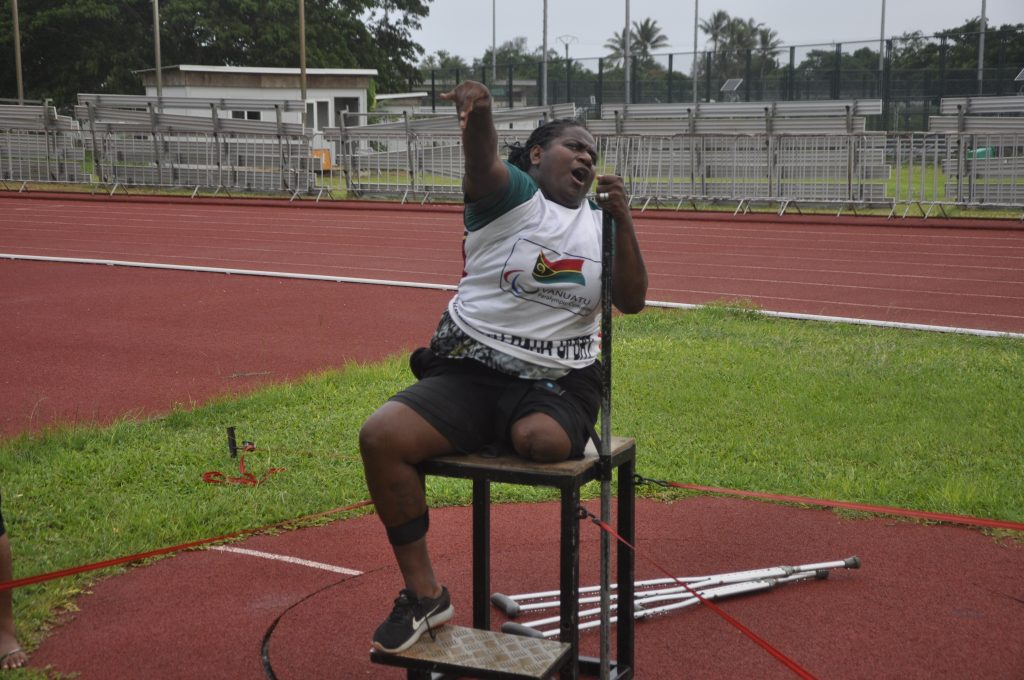 "I really love it. I have found something that makes me happy all the time. I always think now positively in my life with a disability," said Enock.
"Sport gave me confidence, ownership and responsibility back," she said.
"Even when I was a kid, I never expected I would reach a level like this."
She said her son AJ (5) was now her biggest inspiration, and he regularly attended her trainings.
"He even does some training with me, he's the one who motivates me," she said.
Kahu and Enock have recently received some additional support and training from specialist Australian coaches through the Vanuatu Association of Sport and National Olympic Committee (VASANOC) under the Australian Volunteers Program.
VASANOC Equity and Inclusion Officer Jessica Richardson said Vanuatu's Para Athletics Program had been fortunate over the last three years to grow through the support of various national and international donors.
"We conducted the first in-country capacity building workshop for coaches in 2019, received support to send coaches and athletes to development competitions through AGITOS and the Oceania Paralympic Committee and have conducted outer island outreach programs through the support of Kiwanis and Carbine Club," said Ms Richardson.
"More recently another Australian Volunteer, Jason Quelch, a strength and conditioning coach at VASANOC has joined our team to support our athletes in their training and preparation for competition," she said.
"This added component of their training program has built upon their on-field skills to create some great, fast improvements in technique and fitness."
Kahu and Enock said their confidence levels had sky-rocketed with the extra support.
"Having these opportunities has boosted my confidence and has motivated me to come training as I can see that there has been effort put in to help me," said Kahu.
Enock recently did her first chin up under the coaches' guidance.
"I feel pain in places I've never felt before," said Enock.
For more information about disability services visit Disability Services Australia or Vanuatu Disability Facebook.