Top 10 Finalist in the Global Teacher Prize calls for improved education for women and girls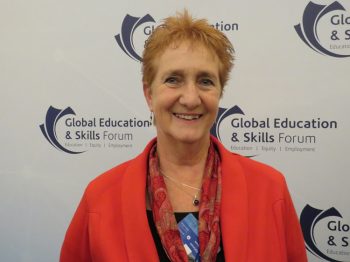 A top 10 finalist for this year's Global Teacher Prize is calling for urgent action to improve education for women and girls to reduce extreme poverty.
Marj Brown made her call while speaking to National Geographic at the Mandela 100 festival in Johannesburg, following her on-stage speech to over 75,000 people.
"It is said that if you educate a girl, you educate a family. Because girls who become educated women are more likely to make sure their children are educated," said Mrs Brown.
"They will also have fewer children, and then are able to raise their living standards," she said.
Mrs Brown currently works as a history teacher at Roedean School – a private girls school in Johannesburg. She has been a human rights activist for nearly 40 years, including actively campaigning against the apartheid regime.
Part of this activism involved helping to start one of the first mixed race schools in South Africa in the 80's, because she didn't want to teach in a segregated school.
Mrs Brown believes that while there have been improvements in schooling in South Africa, there is still a long way to go in closing the gap between social and gender inequality.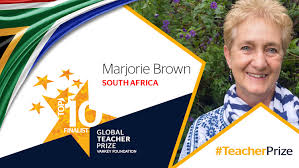 "There have been great strides in education in South Africa. In primary school over 90 percent of children are educated. But there's a greater drop out of girls in high school than boys," said Mrs Brown.
"This is because of a number of issues. The biggest issues are teenage pregnancy and HIV AIDS. Girls are also missing a week of school a month due to lack of access to sanitary pads," she said.
"There is also a lot of abuse of girls in schools in South Africa. It's difficult to quantify the number of girls who drop out for these reasons. But broadly speaking, these are some of the bigger issues faced by girls as they go into high school."
Globally, only 44 percent of girls attend secondary school. In sub Saharan Africa that number is halved with only 22 percent of girls attending.
Mrs Brown has been actively working to improve education for girls and socially disadvantaged children in numerous ways.
The Roedean School has a program supporting girls in rural villages where they provide them washable sanitary pads.
Mrs Brown also runs a program once a week where 22 NOAH (Nurturing Orphans with Aids for Humanity) children come to Roedean School, and 22 of her own students volunteer to help teach the NOAH children better reading skills.
In addition, Mrs Brown was instrumental in bringing the New Zealand originated Kids Lit Quiz program to South Africa. It now has over 100 schools in SA participating, which each school seeing an increase in literacy rates of at least 30 percent.
To take action towards improving education for women and girls by simply writing a sentence click here.
---
by Yvonne Ardley