The Sporting Star Australia Needs Right Now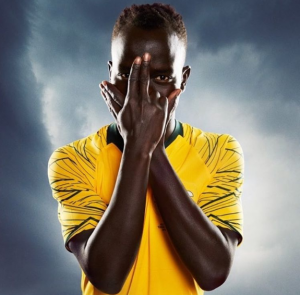 In a time of the spoiled sportstar there comes a refreshing change. His name is Awer Mabil.
Currently the 23-year-old is flying the flag proudly as a member of the Socceroos' squad in their Asian Cup defence.
In a team beset by injury and with a squad struggling amid a revamp post-World Cup, Mabil has proven a shining light.
Playing in the front third, Mabil has provided both spark and goals, to an area of the field that has plagued Australia in recent years.
He is now continuing the strong form showed in Denmark for his professional club FC Midtjylland in the international arena.
But Mabil is making his most impressive strides in the way he conducts himself off the pitch.
He has four goals in his seven matches for his adopted nation, a fine return. But most impactful has been his unique goal scoring celebration that follows.
Mabil routinely covers his mouth with one hand before placing the other over the top, with his middle fingers pointing upward.
The striker revealed to reporters after Australia's recent match with Syria, that the motion is about bringing "piece to the mind" and is a message to those battling mental illness or depression.
It again shows that Mabil is not your average sporting star.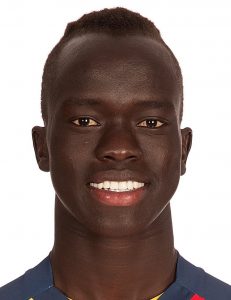 Born in Sudan, Mabil spent time in a refugee camp before moving to Australia in 2006.
Football helped him makes his name, starting in the lower levels in South Australia before earning a professional contract with A-League side Adelaide United, and then to Europe.
But the Australian has established a charity "Barefoot to Boots", along with fellow refugee and brother Awer Bul.
The charity was launched in 2015 by Australian Foreign Affairs Minister Julie Bishop, and has significant government support.
"Barefoot to Boots" provides equipment for children who generally play to game barefoot and supply computer equipment, sanitary items, educational materials and clothing as well.
Mabil's work was recently endorsed by world leaders too. The striker claimed the 2018 FIFPro Merit award for his charitable efforts.
"My aim is to make refugees' lives easier, to make them realise more that their dreams can come true," Mabil said, as he accepted the Merit award.
"Refugees just want an opportunity to be seen and not be isolated."
Thanks to Mabil, their message is being shared all around the globe, through his efforts on the football pitch and in outside endeavours.
The Australian is scoring goals in more way than one, and in doing so is helping to change the world for the better.
Mabil is the star Australia will soon adore and the rest will follow.
For more information visit Barefoot to Boots.
---
by Adam Santarossa