How your downward dog could help children in remote communities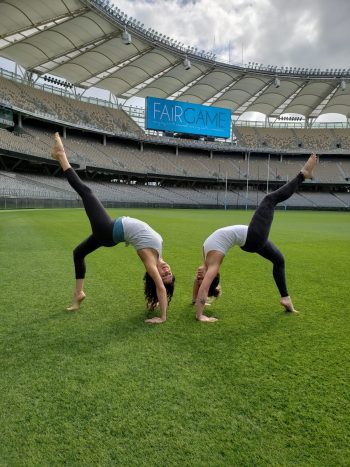 Perth's Optus Stadium will tomorrow host WA's first ever mega yoga class, The Wellness Walkabout, to raise funds for not for profit organisation Fair Game.
The class will be the first time the public are allowed to engage in an activity like this on the grass at the new stadium.
Fair Game volunteer Caroline Arundell said they want thousands of people to take part in the class.
"We want to set a record for the most number of people practicing yoga in Perth at once," said Ms Arundell.
"We are using the Wellness Walkabout to raise awareness of the work Fair Game does to support children in remote and under serviced communities," she said.
"Fair Game runs programs to educate children on health and how to look after their bodies, using sport and fitness as a tool," she said.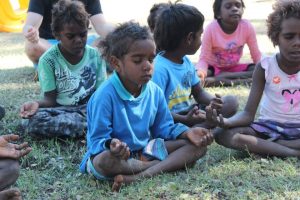 "Our indigenous yoga program was developed using storytelling to make yoga more accessible to children."
"The Wellness Walkabout story describes an Indigenous boy walking through the outback, meeting friendly animals along the way who inspire him to perform yoga movements."
"The words for these movements are translated into local Aboriginal dialects."
"The idea is to improve mental and physical wellbeing of indigenous children and provide a social activity that brings them together."
In 2017, the Commonwealth Fund's International Health Policy survey ranked Australia's health system as second best in the world, however, Australian's are still suffering health wise from largely preventable diseases.
"It's not only indigenous children who can benefit from the Wellness Walkabout classes – we want everyone in Perth to become more aware of their health and a simple yoga class can do that."
Fair Game has these alarming statistics about our health:
In WA 41% of adults are insufficiently active for good health and less than half of our school aged children undertake the recommended physical activity guidelines.
An estimated 56 million deaths annually worldwide are attributed to the non-communicable diseases of a sedentary lifestyle.
The direct health care cost of the contribution of physical inactivity in Australia equates to $1.5 billion per year.
According to the Australian Institute of Health and Welfare 2017 Rural and Remote Health report, poor health is disproportionately higher in remote communities, which have mortality rates 1.3 times higher than the rest of the population.
Indigenous and Torres Straight Islander Australian's have a life expectancy that's more than 10 years shorter than the rest of the population.
Ms Arundell said funds raised by tomorrow's event will allow Fair Game to continue educating and inspiring children in remote and under serviced communities to stay active and look after their bodies.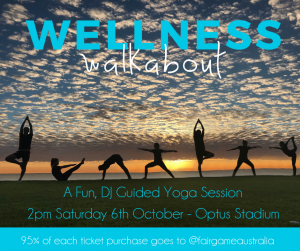 The class is suitable for all yoga levels for anyone 12 years and over.  The yoga event is part of a health and wellness expo at Optus Stadium which includes some of Perth's most inspirational yoga teachers and a DJ.
Doors open at 2pm with the yoga class starting at 3pm.  Tickets to enter the expo and participate in the yoga class are $31.20 for students and $52 for adults.
For more information or to purchase tickets, visit wellnesswalkabout.org.au
The event is part of Lululemon's Here to Be social program.
---
by Yvonne Ardley