Dance Community Rallies Around Young Bunbury Family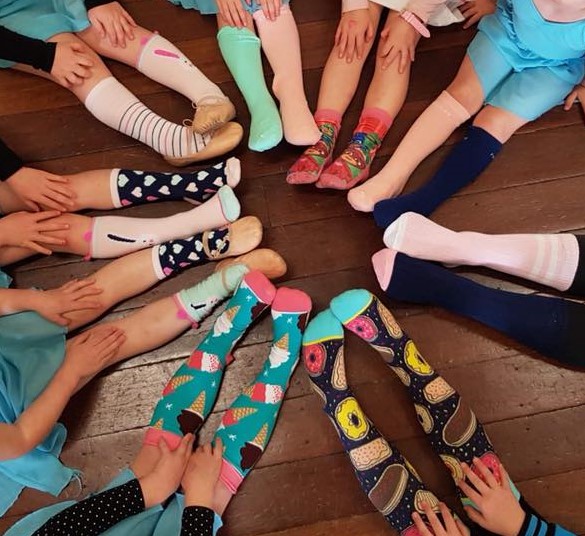 The Western Australian dance community has shown their support by raising money for a local family after their young daughter was diagnosed with a range of serious illnesses – all by wearing some colourful socks.
At the age of six months, Ruby Hansen was diagnosed with Cerebral Palsy, Microcephaly and West Syndrome.
Microcephaly is a neurodevelopmental disorder that leads to an overly small head size. West Syndrome is a type of epilepsy that occurs in very young children.
When Ruby's initial diagnosis came through, parents Josh and Krystina's first instinct was to keep to themselves and not reach out for help or charity. But the level of support they received has changed their minds.
"The support from our community was overwhelming," Krystina says.
"Josh and I really keep to ourselves, so we didn't want to ask for money or anything like that. But in the end, there was so just much support and we thought – anything that helps Ruby is worth doing."
The core of that support came from Bunbury's dance community. Local dance teacher Helen Goff from Top Jazz Ballet came up with the idea of a 'Crazy Sock Day', in which students at local dance schools would wear crazy and colourful socks at their classes.
"You just feel for them and we just wanted to do something to help," said Helen.
"You feel helpless, like you can't do anything – even words can't really help – so putting a fundraiser together, which was really easy with all the support she had, was really good."
After receiving Krystina's blessing, the idea took off, with dance students from across the state buying or making their own crazy socks and donating money to Ruby's cause en masse.
The event raised several thousand dollars for Ruby's future care – an invaluable result.
Ms Goff said that besides the main goal of raising money for a valuable cause, Crazy Sock Day also brought together the dance community around Bunbury and the wider Perth area, students of which normally only ever saw each other in a competitive landscape.
"The whole dance family jumped in behind it, which was gorgeous," she said.
"The Perth schools, Mandurah, Bunbury, the South West – it was great. It was crazy how quickly and easily it came together."
After the event took place, Krystina set up a Facebook page (Ruby's Rainbow) so Ruby's many friends, family and supporters could keep track of her progress.
Every post keeps track of Ruby's achievements and lets people who have donated to her wellbeing see where the money is being (very well) spent. And every post is flooded with wishes of love and support for her and her development.
"For us, it's an achievement when Ruby is simply able to reach up and grab a toy and play with a toy. Those little achievements give us so much joy in raising Ruby," Krystina says.
If you'd like to donate to Ruby's cause or simply support her progress, simply visit her Facebook page and get in touch with Krystina via Facebook message, or you can visit Top Jazz Ballet and contact Helen to donate that way. Every bit of support is appreciated.